A Brief History...
Visit our
ANNUAL PHOTO GALLERY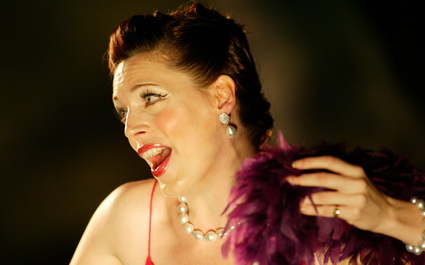 In 1992, a handful of dedicated people with a passion for Opera – Michele Nott, Michael G. Connolly, Karen Lewer and Mary-Attracta Connolly - worked together to present an Opera Gala Event 'par excellence' in the exotically beautiful & remote North-West town of Broome in Western Australia. 1993 saw Michele Nott's 'dream' come to fruition with Opera being presented for the very first time above the 26th Parallel in Western Australia. The event, starring Mary-Attracta Connolly (Soprano) & Fergus H. Anderson (Baritone), performing with Jennifer Warren (Pianist), and Broome musician, Guy Ghouse (Guitarist), was to be the first of many successes.
Since its inception many stars of national & international Opera have performed at OPERA UNDER THE STARS® including Joshua Bloom, Phoebe Briggs, Louise Callinan, Janice Chapman, James Clayton, Brad Cohen, Aivale Cole, Ding Yi, Aldo Di Toro, Rachelle Durkin, James Egglestone, Shannon Foley, Antoinette Halloran, Roxane Hislop, Kate Johnson, Andrew Jones, Leanne Kenneally, Simon Kenway, Wade Kernot, Hyeseoung Kwon, Rosario La Spina, Michael Lewis, Judit Lorincz, Emma Matthews, Kathryn McCusker, David McSkimming, Milijana Nikolic, Emma Pearson, Andrew Schroeder, Dimity Shepherd, Tiffany Speight, Stuart Skelton, Katherine Tier, Katja Webb, Angus Wood, John Bolton Wood & David Wickham. Much lauded Broome musicians Stephen Pigram and Michael Manolis have also featured on the OPERA UNDER THE STARS® stage.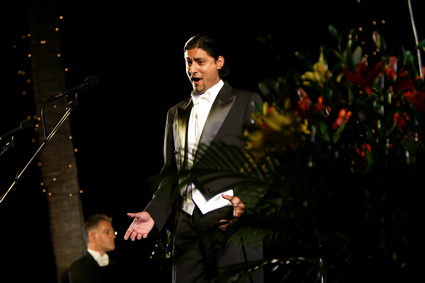 Renowned for its star performers, sublime venue and spine-tingling pleasure value this unique must experience event is now celebrated as the highlight of the Kimberley Events Calendar.
Audiences over the years have enjoyed music programmes that have included an eclectic mix of some of Opera's most loved favourites, as well as other less performed gems that have provided heady delights for opera lovers and opera novices alike.
Highlights include the Special Guest performance by Janice Chapman in 1994; performances of local songs by Broome artists Steve Pigram and Mick Manolis with baritone Fergus Anderson and pianist, Ryan Larsen, in 1995; excerpts from Carmen in 1996 with Jolanta Nagajek , Mary-Attracta Connolly (Soprano & Director of OPERA UNDER THE STARS®), Yu Jixing & Kerry Henderson; Highlights from La Bohème in 1998 featuring Kathryn McCusker & Adrian McEniery; The Three Chinese Tenors in 1999 with Special Guest Artist, Mary-Attracta Connolly; the Australian debut of American baritone Andrew Schroeder with Tiffany Speight & Daniella Erhlich in 2000; the exuberant performances of Natalie Jones, Lisa Russell and Dimity Shepherd with Simon Kenway in 2001; the terrific 2003 trio of Kirsti Harms, Ding Yi & Joshua Bloom together with Phoebe Briggs; the sublime quartet of Leanne Kenneally, Catherine Carby, Angus Wood & Shannon Foley with Stephen Mould in 2004; the highly entertaining ensemble of Rachelle Durkin, Mary-Attracta Connolly, Dimity Shepherd, Aldo Di Toro and Tommaso Pollio in 2005 and, in 2006, the outstanding performances of Emma Matthews, Roxane Hislop, Aldo Di Toro, John Bolton Wood and Phoebe Briggs.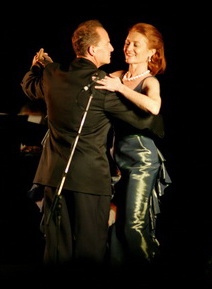 In 2002 OPERA UNDER THE STARS® celebrated its 10th Anniversary with a spectacular Gala Performance starring Jennifer Barnes, Jacqueline Dark, Stuart Skelton, Douglas McNicol and Francis Greep, together with Special Guest Artists Janice Chapman and Mary-Attracta Connolly. A scintillating programme of music featuring highlights from Puccini's Madama Butterfly, with a plot change to incorporate Broome's Japanese heritage, ensured sheer, magical delight and a celebration to relish & remember.
OPERA UNDER THE STARS® was presented at the Mangrove Resort Hotel from 1993 - 2006. Michele Nott and Karen Lewer left the group of organisers following the 1996 and 2005 performances respectively.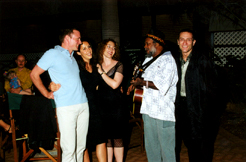 In 2007 OPERA UNDER THE STARS® entered an exciting new epoch with its inaugural presentation at the stunning Cable Beach Amphitheatre situated adjacent to the sparkling waters of Broome's picturesque Cable Beach. Famous for its fiery sunsets, the Cable Beach skyline provided a breath-taking backdrop to OPERA UNDER THE STARS® 2007. The proximity to Cable Beach also added a special 'saltwater' sense of place to the 15th Annual Award Winning OPERA UNDER THE STARS® Gala. Audience members from around Australia revelled in a thrilling night of Opera entertainment performed with wondrous panache by Sarah Crane, Louise Callinan, James Egglestone, Shaun Brown and David McSkimming.
In 2008 OPERA UNDER THE STARS® made a spectacular return to the Cable Beach Amphitheatre with its presentation of a fireworks night of entertainment featuring international artists Aivale Cole, Judit Lorincz, Bradley Daley, Douglas McNicol and Francis Greep. Subsequently, in 2009, OPERA UNDER THE STARS® was thrilled to present the Broome debut of acclaimed Australian baritone, Michael Lewis, together with Aivale Cole, Katja Webb, Katherine Tier and David Wickham in a breathtaking programme of music that especially featured music by the great Italian master, Verdi. In 2010, OPERA UNDER THE STARS® featured the exquisite Antoinette Halloran, Aldo Di Toro, Stuart Skelton, James Clayton and Kate Johnson and was a night of immense pleasure and entertainment. OPERA UNDER THE STARS® 2011 featured Emma Pearson, Milijana Nikolic, Roberto Abate, Wade Kernot and Francis Greep who enthralled with their dazzling performances. 2011 also saw OPERA UNDER THE STARS® Director and soprano, Mary-Attracta Connolly, make a highly entertaining cameo appearance with a pronounced sense of fun in a duet with bass, Wade Kernot.
In 2012, OPERA UNDER THE STARS® celebrated its 20th Anniversary in sensational style starring Rachelle Durkin, the West Australian Opera Chorus – appearing courtesy of West Australian Opera and the Department of Regional Development and Lands in its first live regional performance – Maestro Brad Cohen and Tommaso Pollio. With 35 Artists on stage a stunningly beautiful night of Opera entertainment had the audience enraptured and was the perfect 20th Anniversary Celebration for this much-loved event. OPERA UNDER THE STARS® 2013 featured an evening of sublime music starring the mesmerising international cast of Hyeseoung Kwon, Milijana Nikolic, Rosario la Spina, Andrew Jones and Kate Golla.

With the open air event in hiatus from 2014-2016, in 2014 OPERA UNDER THE STARS®, in collaboration with Red Shift Productions, presented the wonderful duelling diva duo 'Divalicious' plus, in 2015 and 2016, the fabulously entertaining Opera Soirée concerts featuring Mary-Attracta Connolly, Mark Alderson and Graeme Gilling and Mary-Attracta Connolly, Monique Simone, Mark Alderson and Tommaso Pollio respectively all at the wonderfully versatile Broome Convention Centre Chinatown.

In 2017 it was with palpable excitement that the open-air OPERA UNDER THE STARS® returned to its original 'home by the bay' at Mangrove Hotel with a special Gala Performance featuring the stellar cast of Antoinette Halloran, Cassandra Seidemann, Paul O'Neill, Samuel Dundas and Tommaso Pollio. The Return of OPERA UNDER THE STARS® was welcomed with thunderous applause plus a standing ovation that echoed out across Roebuck Bay until the very last note of the very last encore! The Joyous return of this much loved Broome event was a wonderful tribute to the iconic Broome musician, composer and playwright, Jimmy Chi, whose inspiration lives on through his music and the hit musicals Bran Nue Dae and Corrugation Road. OPERA UNDER THE STARS® has enjoyed a strong connection with Jimmy Chi's music since its inception in 1993 and was honoured, with the permission of his family, to dedicate the OPERA UNDER THE STARS® 2017 'home by the bay' Gala Performance to him.

The thrill of OPERA UNDER THE STARS® 2019 lives on in the hearts of many with vivid memories of world renowned bass-baritone, Teddy Tahu Rhodes together with soprano, Georgia Wilkinson, mezzo-soprano, Bronwyn Douglass, and pianist, Phoebe Briggs, captivating the audience with a performance of mesmerising proportions. Music from the Broome musical Bran Nue Dae also featured with Teddy Tahu Rhodes and Mary-Attracta Connolly, OPERA UNDER THE STARS® Director and soprano, performing "If I Gave My Heart To You" with the final song of the evening, that left not a dry eye in sight!, being a quartet rendition of Town By The Bay, both songs by the wonderful Jimmy Chi, that caused the audience to errupt with rapturous appreciation and applause.
Following a 'covid break' in 2020, the sound of OPERA UNDER THE STARS® rang out across Broome's majestic Roebuck Bay in 2021 when soprano, Emma Matthews, making her welcome return to the OPERA UNDER THE STARS® stage, performed with tenor, Paul O'Neill, baritone, Lachlann Lawton, and pianist, Graeme Gilling, with their scintillating performances receiving rousing applause. A very special item on the 29th OPERA UNDER THE STARS® programme was Graeme Gilling's exquisite rendition of the Schubert - Impromptu G-flat Major, Opus 90 No.3 with its dedication to Ken Fitzgerald (1942-2019), who, with his wife, Lola, as the new owners of The Mangrove Hotel were Hosts of the inaugural OPERA UNDER THE STARS® in 1993, and up until 2005.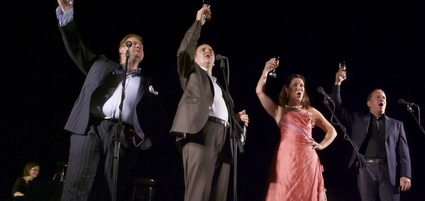 From 2004-2013, with the goal of enhancing its already strong community focus, OPERA UNDER THE STARS® presented the 'Oper-Arte' Art Exhibition & Auction – the art exhibition with a difference that makes a difference - designed to provide a forum for the intermingling of the worlds of Opera and Visual Art. Each year a Visual Artist was invited to present an exhibition of new works with OPERA UNDER THE STARS® and experiences in Broome as its broad theme. Integral to each 'Oper-Arte' was the auction of an original artwork, kindly donated by the Artist, with the total proceeds being utilised to increase access to musical instruments / materials for the children of the West Kimberley. Artists have included Leon Pericles, Harvey Wachtel, Kerry Stokes, Ian McConnell, Krim Benterrak, Claire Beausein, Judy Prosser, Helen Norton, Ingrid Windram and Mark Norval. The success of 'Oper-Arte' was a credit to all involved and saw more than $75,000.00 in musical instruments / materials provided for the children via the 6 schools of Broome, plus the 3 schools of the Dampier Peninsula, at Djarinjin-Lombardina, Beagle Bay and One Arm Point, North of Broome, and La Grange Remote Community School at Bidyadanga, South of Broome.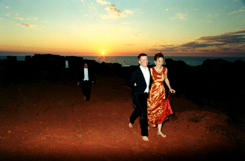 Since its beginnings OPERA UNDER THE STARS® has enjoyed a strong connection with the wonderful music of Broome and especially the music of Broome musician, composer and playwright, Jimmy Chi (1948-2017), of Bran Nue Dae and Corrugation Road fame. Selections of Chi's songs have been featured at OPERA UNDER THE STARS® every year since 1993 and have become special favourites with the OPERA UNDER THE STARS® audience.
OPERA UNDER THE STARS® was endorsed as an Event of Excellence by Tourism Council Australia via the Western Australian Tourism Awards having been announced as the 1999 Winner and 2000 Finalist in the Significant Regional Festivals & Special Events category, as well as being a 1999 Finalist in the Australian Tourism Awards.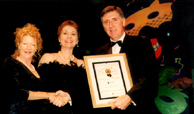 OPERA UNDER THE STARS® has always had a special 'personal' charm and the spirit of the event is contributed to immeasurably by friends and family, both local and those who travel from all parts of Australia, who add their energetic enthusiasm and support to the event on an annual basis.
One of the most important aims of OPERA UNDER THE STARS® is to present a world class event that is accessible to everyone. This most important of aims could not have been successfully achieved over the years without the invaluable support of a select group of top calibre Sponsors whose assistance is essential to the presentation of OPERA UNDER THE STARS® and is acknowledged with heartfelt gratitude. We salute the Sponsors of OPERA UNDERTHE STARS® 2022, Principal Partners: Broome International Airport and CMC Marine, and Major Partners: Mangrove Hotel and Broome Advertiser.

OPERA UNDER THE STARS®:
Director: Mary-Attracta Connolly
Technical Director: Michael G. Connolly

Visit our
Spoil someone special!